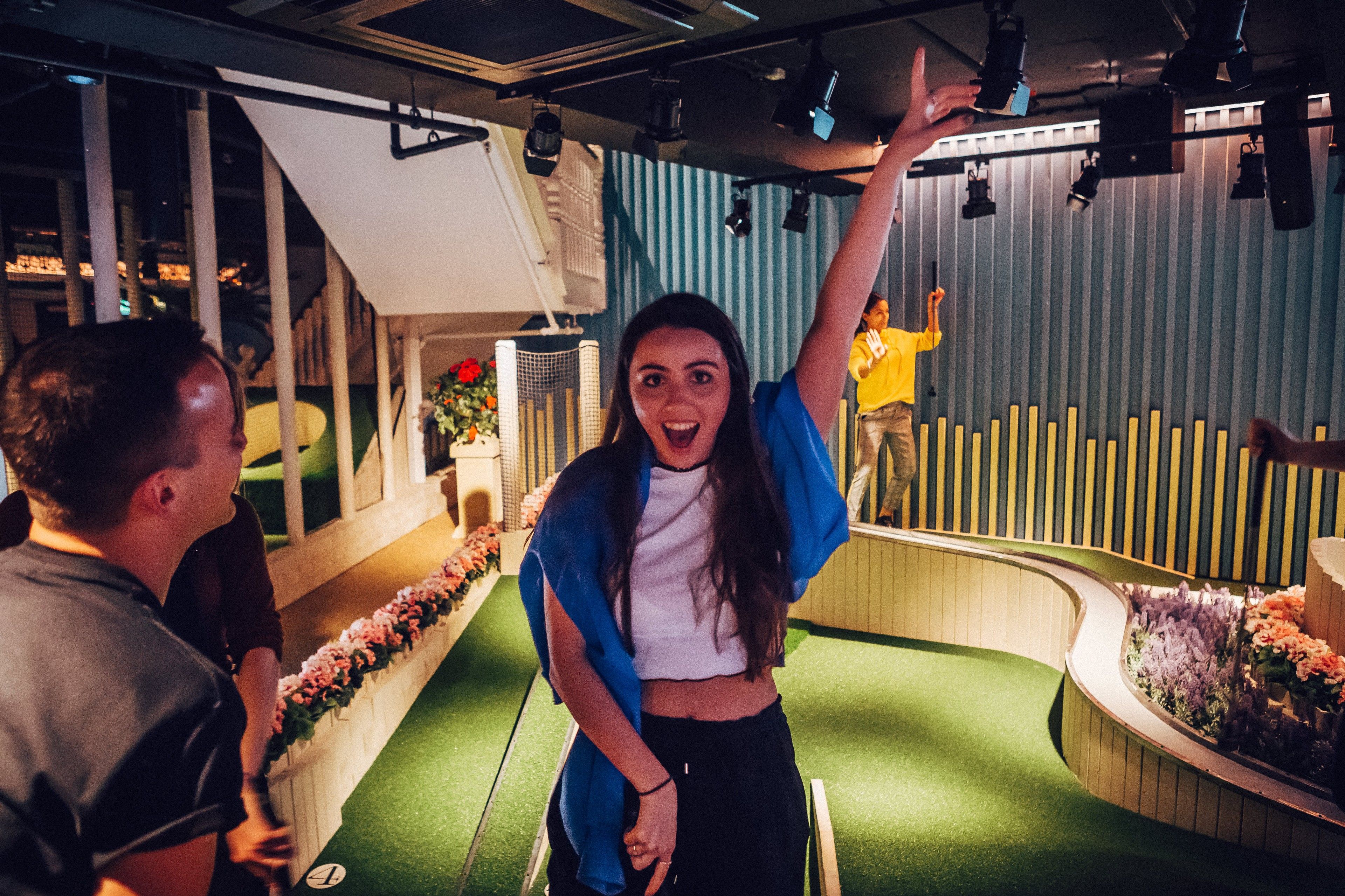 Build it, and they will come – in conversation with the designer of Swingers' crazy golf courses
When it comes to design, much reverential admiration is given to those 'starchitects' who conceive of glittering modernist towers of steel and glass, or fashion gurus who deliver daring sartorial creations. But we'd argue that the person behind the design of the ingenious golf holes at Swingers should be similarly celebrated. Say hello to Thomas Borer, the man responsible for designing every course.
Remember that chat you had with a careers advisor when you were at school? For many of us, it was a dispiriting process, with the options on offer all seeming to point to a less-than-exciting world of adulthood. We're also pretty sure that the role of 'crazy golf course designer' was never discussed. Because if it had, we'd have said: "Where do I sign up?" 
Image courtesy of Thomas Borer
For Thomas Borer, designer of every hole on Swingers' two golf courses, an early passion for woodwork has led him to being responsible for the fun of thousands of people every week. Here's how he put the swing into Swingers.
Thomas, you have one of the best jobs in the world. How did you get started?
I always made furniture from a young age. My dad was a great carpenter and I learned a lot from him. We lived near some woods, so we had plenty of material to work with. I went on to study sculpture at university – and performing arts – although the latter part of the degree doesn't help me much these days!
How did you get involved with Swingers?
After uni I set up a bespoke furniture company and this led to becoming an on-site carpenter for a Gloucester-based festival called Winterwell. It was really small – about 2,000 people, but a great place to work. Well, most of the time. As you can imagine, building things in what was often a sea of mud is quite a challenge.
The festival was founded by Josh Ford, who then became an early investor in Swingers as he knew co-founders Matt Grech-Smith and Jeremy Simmonds, hence my coming on board with that project. Josh was a big golfer, while at the time I wasn't. I'm pretty good at my short game now though.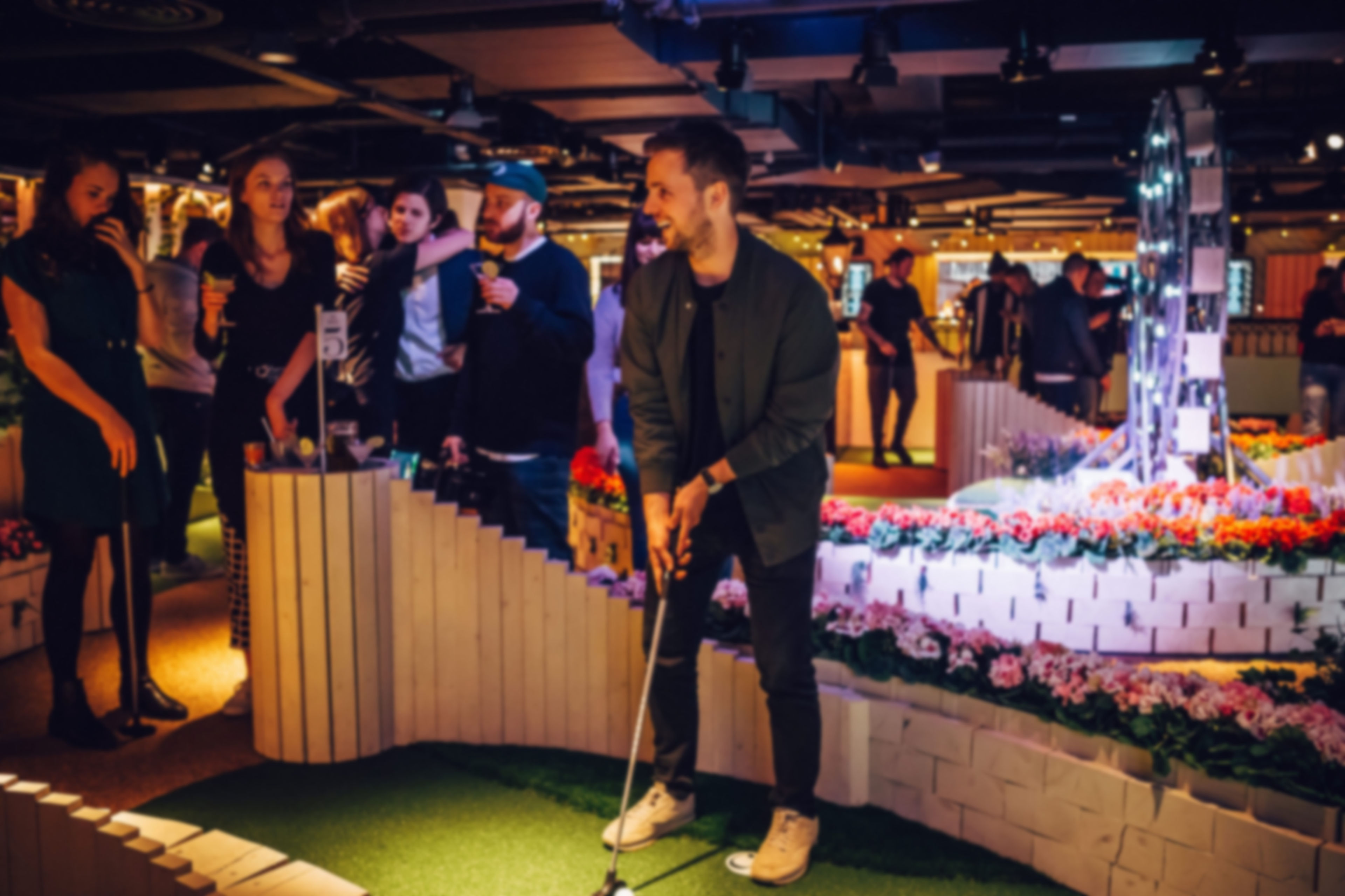 What was the brief you were given?
Swingers started life in 2014 as a pop-up crazy golf course in Shoreditch, London. The brief was to create a visually impressive course that wasn't too hard – so people didn't get stuck for ages – but that also had an element of skill to it. After co-designing with Josh, I then built literally everything for that course. And I obviously had to play everything, to make sure it all worked.
This is how it works. I'm given a space, and I have to fit nine holes into that space. In some ways, it helps when the space is quite awkward, with lots of corners and difficult shapes, because it forces me to be more creative and the end result is more interesting. There needs to be a flow around the course – a natural progression – and it needs to suit the golfer and non-golfer alike. If it's too hard then there will be a backlog of players waiting, which throws the whole thing out, timing-wise.
For example, in Swingers West End, there was originally a hole that saw the ball easily fall off a raised platform, which was slowing things up. The addition of a wooden backstop helped solve that problem.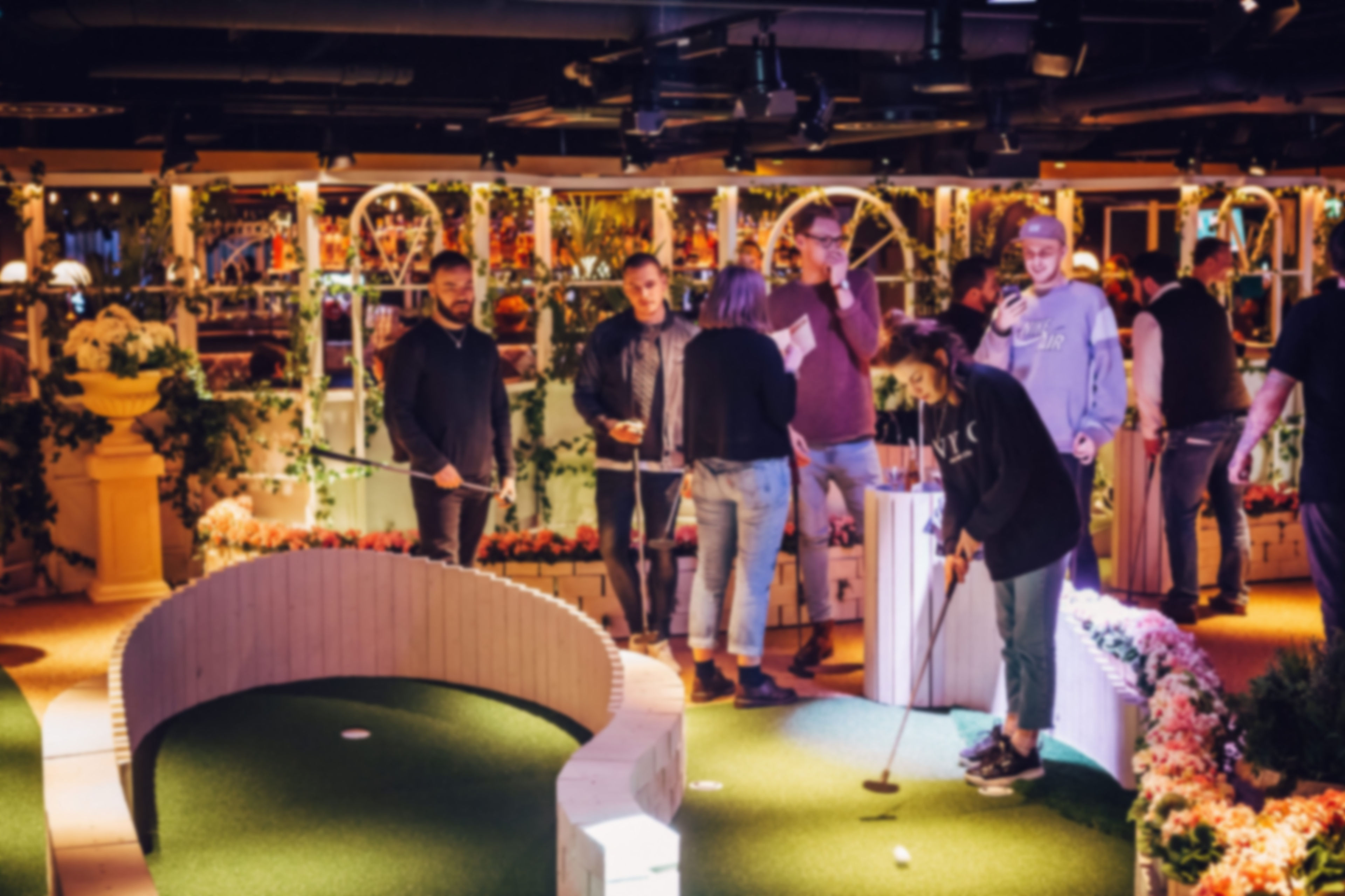 Did you look at other crazy golf venues for inspiration?
No, as I wanted my ideas to be personal. I didn't want to be informed by what others have done. We never sit still with our designs though. Swingers is always in beta mode. I'm constantly improving the holes, making the flow and playability better. People like to see small changes. They appreciate that you're still investing in the venue.
Both London venues had slightly different briefs. The City site is a more English country look, harking back to the golf clubs of old. The West End venue is more refined, with a nod to the English Riviera. With both, we tried to use natural materials, such as wood, metal and glass, rather than the generic fibreglass you often see in purpose-built places.
Do you have a favourite hole?
Hole 9, the last hole at Swingers West End. It's a big Ferris wheel with lots of lights and, though it's a fairly easy hole, there's always a lot of tension there for players. Plus it looks great.
Image courtesy of Swingers
And we hear you're involved in the next stage of Swingers?
Yes, we're looking to expand in the US – which has a burgeoning crazy golf scene – and I'm involved with that. It's the first time that I'm not making everything myself. We're also designing holes in 3D and it's allowing me to be a little more elaborate. It's very exciting.
Can you give us a sneak preview of what to expect the States?
We're introducing more tech, so we'll have more moving elements on each course. The important thing is not to make it too complicated, though. It's all about the gameplay and finding a balance between the electronic and the traditional. At the end of the day, we want people to be able to figure out what the ball will do and make it easy to read the angles. Having their skills tested, but not too much, makes for a happy customer.
Authentic and playful stories that will  inspire you to experience the best in life. Share this or click to find out more about Swingers, the world's coolest crazy golf bar and restaurant, and to book your visit.  
Swingers
Swingers is the crazy golf club, a venue that takes the holy trinity that is crazy golf, street food and amazing drinks and combines them all into one incredible social experience. Swingers City is based on a 1920's golf club set in the bucolic English countryside, while Swingers West End takes crazy golf back to its seaside roots in a venue that reimagines the faded glamour of the 1920's English Riviera.